Theme is Postcards for Annual Report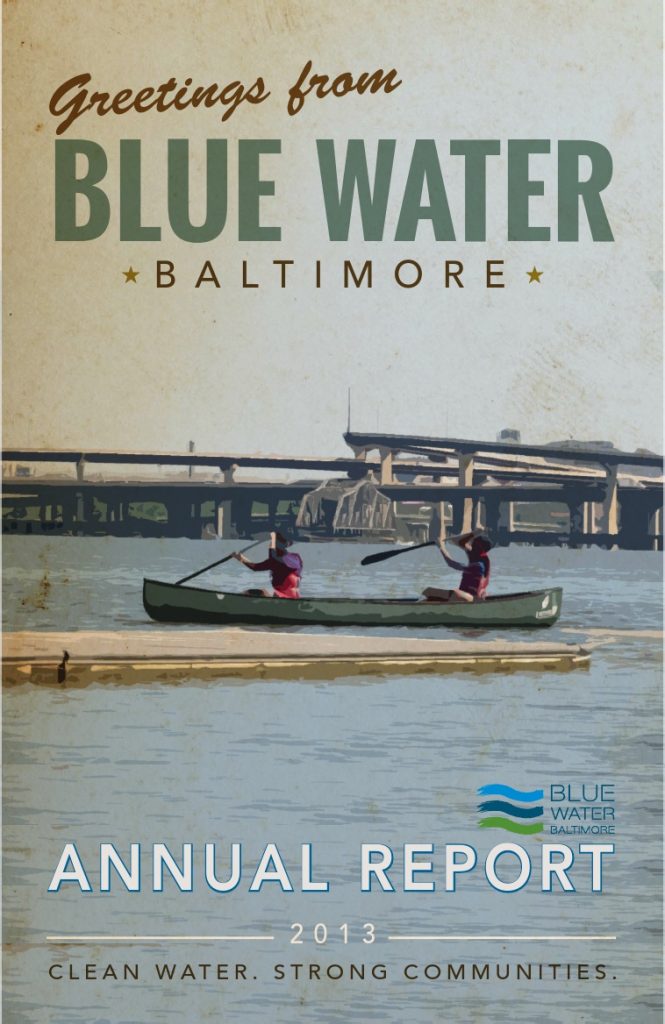 Over the past month, we've been looking at Annual Reports, starting with a series on trends in reports and sharing the gratitude report we did for the Baltimore Child Abuse Center. Today we will be looking at the 2013 Annual Report we did for Blue Water Baltimore.
We wanted the annual report to fit the visual style we established in previous pieces we did for the organization. (see below) The image looks like a painted postcard with soft lines and few prominent natural colors.
Additionally, it was important for the image to reflect Blue Water Baltimore's mission to "restore the quality of Baltimore's rivers, streams, and harbor to foster a healthy environment, a strong economy, and thriving communities." This was done by focusing the image and tag line not only on water, but also on people to reflect the community component of their mission. The resemblance to a postcard also hints to the fact that protection of the area's water raises the desirability and draw of Baltimore as a place to live and visit.
Inside, the report continues in the color palate of Blue Water Baltimore's logo and highlights key accomplishments in statistics highlighted throughout the text. The interior also continues the motif of a postcard with graphics and images from the postal system. We also segmented the text with greetings from key water areas in the city.
Lastly, we used the donor list to highlight further quick snapshots of the work of Blue Water Baltimore to make sure that section was both a place to thank donors and promote accomplishments.
We were very pleased with the feedback from Blue Water Baltimore. Communications and Marketing Manager Lisa Roca said, "While we wrote the stories at Blue Water Baltimore, Redstart bought them to life with their creative layout. We have received nothing but positive feedback and comments from our funders, donors, and board members. Redstart excelled at creating and executing an annual report that captured our organization's mission, history and goals for the future."
Want to know more about the report or discuss annual reports with us? We can be reached at 443-798-2773 or rebecca@redstartcreative.com.