Giving Back In Business: Part I
Giving back in business is much more commonplace than it use to be, which is so amazing! Many companies like Toms or Warby Parker do one for one programs, Honest Company has been a long time partner of Baby2Baby and other well known brands create foundations or corporate service policies.
While we are not the size of these amazing businesses, here at Redstart, we believe that incorporating philanthropy into our business model is extremely important. We know that every person has the ability to make a difference in their community (or country, or world!) and we want to be a part of that difference.
Early on, we realized the need to make community outreach (link to our community page) part of our corporate culture. This is right inline with one of our core values – service. I consider volunteering "walking the walk" and it is a wonderful way to  build camaraderie with others in the community.
Twice a year (in honor of Martin Luther King Jr. and in remembrance of September 11th), the Redstart team and family members join together to volunteer at a local non-profit. Sometimes that means harvesting vegetables at First Fruits Farm, planting trees with Blue Water Baltimore or serving food at Moveable Feast, Our Daily Bread or My Sister's Place.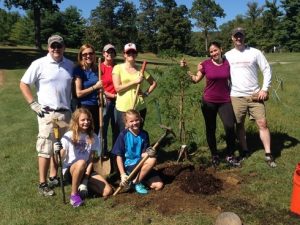 What does your organization do to give back? Looking for some ideas, you can check out this great article from Fast Company that talks about how to get started volunteering.