Giving Back In Business: Part II
September 21, 2018
|
News
We talked in our previous blog about how many businesses these days are incorporating altruism into their business models. We love this so much and while each business has their own way of giving back, our way at Redstart is through service in our greater Baltimore community.
While we participate in service projects regularly, another way we love to give back is through our Jumpstart program. Each year, we select one non-profit to provide pro bono branding services. We help them build a brand and online presence that will increase community recognition and allow them to make a big impact.
This year, we selected TasteWise Kids as the recipient of our Jumpstart award! TasteWise Kids is an organization that inspires kids to experience and explore the world of food and its sources.​ They help to bring together chefs, farmers and other food professionals with kids and provides discovery-based programming to teach kids about where their food comes from and the nutritional value of fresh food. Their signature program, Days of Taste®, works with 4th grade students in the spring and fall each year!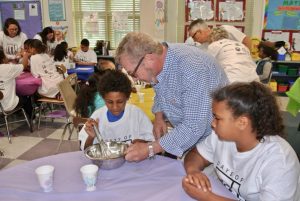 We are excited to work with such a great non-profit doing incredible things in the nutrition and childhood development sphere. To learn more about Jumpstart, click here.
Giving back is an important and meaningful way to support our community and strengthen the bond with our work team and families. We would love to hear how your company brings their goodness into the community!