Redstart Creative First 2015 Service Day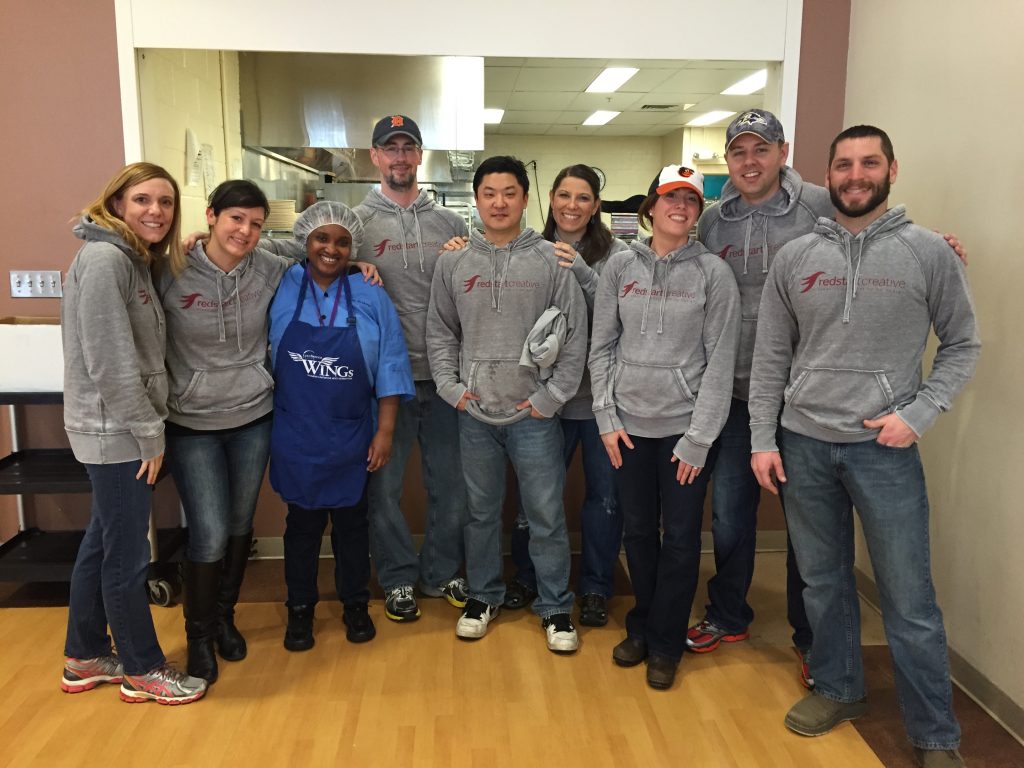 On Sunday March 7th, the Redstart Creative team along with family and friends served at My Sister's Place in Baltimore City. My Sister's Place is a transitional housing program for homeless women in Baltimore City who have been diagnosed with a disability. My Sister's Place provides a safe, therapeutic, and nurturing environment where residents can increase their self-esteem and develop the skills necessary to successfully transition into the community once they complete the program. The primary goal of the program is to assist residents in becoming self-sufficient, active members of the community who reside in affordable and safe permanent housing.
On hand for the service day was Chief Creative Officer Rebecca Teaff, Operations Manager Gretchen Laufer, and Project Managers Jenn Pak, Ally Brocious and George Hoffmann. We were also joined by Robert Teaff, Justin Pak and Brandon Glass.
Everyone arrived just before 11am. We washed hands, donned our aprons, hair nets and gloves and got to work. We were all assigned tasks such as dish washing, setting and busing tables and serving food. Jenn and Ally rocked cooking up green beans and Gretchen and Rebecca handled bussing the tables. Rob and Justin teamed up to do the dishes while George and Brandon served food.
We had a great time talking with the dedicated staff and meeting the residents. Ms. Barbara runs a tight ship in her kitchen, from assigning duties to selecting the music for the day (Stevie Wonder – The Definitive Collection) and had everything ready by 12pm when clients came in to be served.
These service days help remind us of the dedicated work being done every day by wonderful nonprofits in our area. It was a pleasure to roll up our sleeves and provide an afternoon's assistance to the My Sister's Place team.
If you'd like to help My Sister's Place Lodge, you can contact them at volunteermspwc@cc-md.org.
To see more pictures from our day, please check out this post on our Facebook page.