Redstart Creative Fall Service Day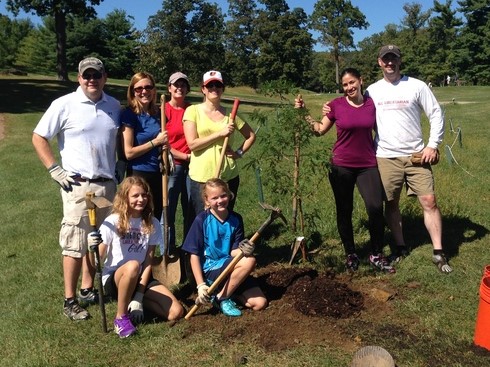 Last Saturday, September 27, Redstart Creative staff and family members joined with Blue Water Baltimore, to plant trees at the Forest Park Golf Course in Baltimore. Twice a year Redstart Creative organizes a service day in the community – one in September to honor September 11th and another in January to honor Martin Luther King Day. For the fall service day, we were excited to get the chance to partner with Blue Water Baltimore, one of our clients, for such a fun project on a beautiful fall day.
Blue Water Baltimore is a nonprofit organization whose mission is to "restore the quality of Baltimore's rivers, streams, and harbor to foster a healthy environment, a strong economy, and thriving communities." They work towards this mission on a number of fronts including advocacy work, education, and mobilizing volunteers.
The Redstart team in attendance was Chief Creative Officer Rebecca Teaff, Operations Manager Gretchen Laufer, Graphic Designer Jamie Marcus, and Project Managers Laura Lloyd Henry and George Hoffmann. We were also joined by Gretchen's family – Evan, Maddie and Kaci.
Over the course of the morning our team planted 8 trees and the larger group planted 30. We started as tree planting novices, but are proud to say that by the end of the day we not only helped the environment, we also knew more about how to nurture a young tree.
We also found hidden gifts we never knew we had. Our agility was tested several times throughout the day as we dodged drives from the golfers enjoying the links.
We also tried new tools. Many of our team had never swung a pick-ax, but discovered they really enjoyed it. (See the picture above of a smiling Rebecca for proof.)
We had a wonderful experience volunteering with Blue Water Baltimore. If you'd like to help them in their mission to improve Baltimore's water, you can visit their website's "Get Involved" page or contact their volunteer coordinator, Katie Dix at volunteer@bluewaterbaltimore.org or 410-254-1577 extension 100 to find out about upcoming opportunities.