Redstart Creative Launches New Website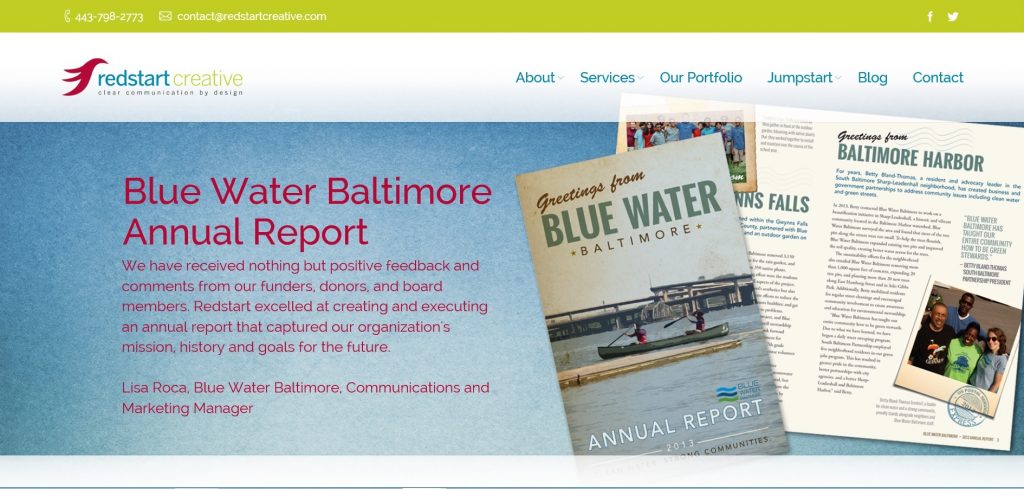 Redstart Creative recently launched our new website. The website is designed to have more visual features and to allow clients and prospective clients to better know the company and our work. After the successful redesigns of several client's websites, we felt it was appropriate to give our own website a much needed make over.
The process of creating a new website requires careful thought and planning. When looking at our former site, we decided there were a few key areas we wanted to improve upon.
Responsiveness – Our blog on the value of mobile optimization showed that having a website that is responsive to phones and other portable devices is critical given the fact that so many people access websites through that lens. Our new website is fully responsive and will scale to 100% of the screen on every device.
Visual Engagement – While our old site had images, we knew there was more we could do to draw visitors into our work. We added visual features throughout the site including bullets, icons, tables and animation effects. For our business, the visual aspect is key. We want people to easily see our work and engage with it, so we placed portfolio pieces into a slide show on our homepage.
Client Experience – We wanted our clients to be able to see a wide variety of our work easily. Our new portfolio page allows clients to select the type of work they are looking to produce and find examples of that type of work. The new site also features an in-depth look at the services we offer. We also added profiles of our team members to give clients a better look and the people with whom they will be working. We also now feature our awards and client testimonials.
We also took the opportunity to highlight our mission and involvement in the community. Our old site did not clearly feature our vision and values. Redstart Creative is proud to bring our talents to organizations working to bring positive change to the world. Our soon-to-be-added, community page will focus on Redstart Creative's volunteer and pro-bono work. The Redstart team, along with friends, family, and clients, participate in two service days each year. We volunteer with a local non-profit as a chance to give back to the community and cultivate teamwork.
We also use our design talents to support area non-profits in two ways. We pick one non-profit event each year and provide design services in exchange for sponsorship of the event. We also select one non-profit each year to be awarded pro-bono services for logo and website development. This program, called Jumpstart, had its inaugural year in 2014 with My Heroes Network.
We are proud of our new site and the way it meets our goals. The site is engaging, easy to navigate, and the HTML5 code we used meets the best SEO practices and will enable Redstart Creative to be more visible in searches. We hope you take a few minutes to browse the new site, review our work, meet our team, and see what we have to offer.