So What Exactly is Foursquare?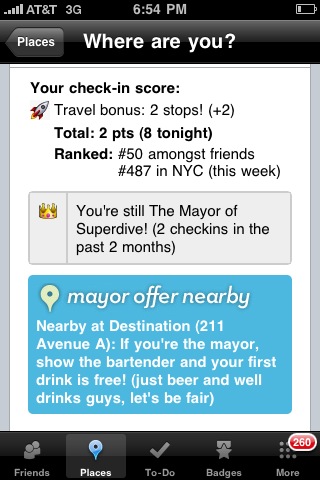 Foursquare is a virtual game that enables you to compete with your friends by checking-in to various locations throughout the week. As you check-in, you gain points, earn badges and the status of mayor at locations you frequent.
Foursquare started in New York City, expanded to 100 other cities and is now available anywhere. This means that anyone from New York City to Smalltown, USA can join Foursquare provided they have a mobile device with internet access.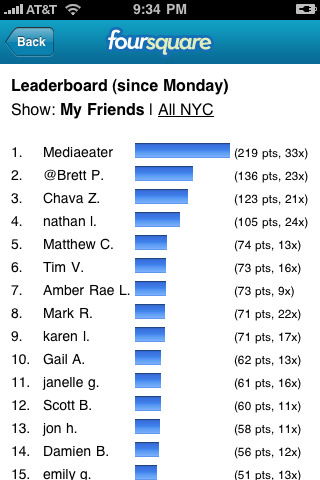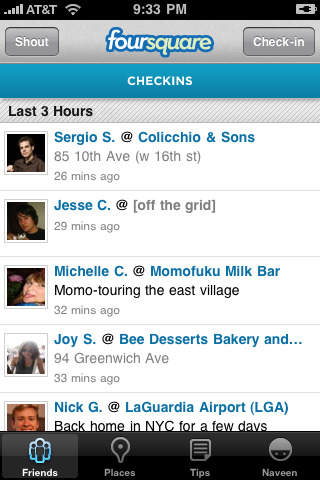 How to sign up for Foursquare
You can create a user account online or by downloading the application to your mobile device. Currently, Foursquare applications are available on the iPhone, Blackberry and Android.
The next step is to find any friends who are also on Foursquare and link to them.  Now you are all set to check-in during your daily travels from your mobile device. Your Foursquare friends will see where you are and, if you choose, you can feed it to Facebook and Twitter.
Badges
As you check-in, you gain points for your activities and can earn badges. Be warned, these are not your Cub Scout badges. They range from "Newbie" for the new user to "Bender" if you've been overly active on Foursquare.  (In the process of writing this article I hit "Superstar," which means I've checked into 50 venues. Not sure if I should be proud or embarrassed. )
You can view your badge screen to see what badges you earned (shown in color).  and those you have yet to earn (appear in gray screen).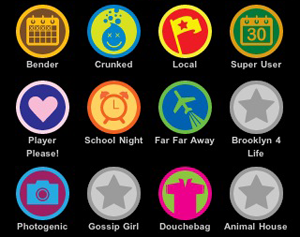 Here are some known badges:
-Adventurer- Earned when you have checked-in to 10 venues.
-Explorer – Earned when you have checked-in to 25 venues.
-Superstar – Earned when you have checked-in to 50 venues.
Here are some badges I'm curious about:
-I'm On A Boat
-16 Candles
-Zoetrope
How Does Foursquare Relate to Business?
There are three ways Foursquare promotes business:
-First – through having your location buzzed about on Twitter with location check-ins
-Second  – by having your best customers provides tips on your location
-Third  – rewarding your supporters on Foursquare
Foursquare detects your location and will list tips for other locations in your area. If you are not sure where to eat or hear the best music, check Foursquare and see any tips relating to restaurants. Tips are all user-created so they are subjective, but it is just like asking your friends for a recommendation.
When a Foursquare user becomes a "regular" at a venue, they can become mayor. Some locations offer deals or specials to Mayors.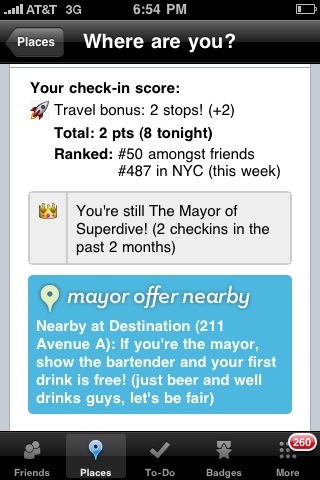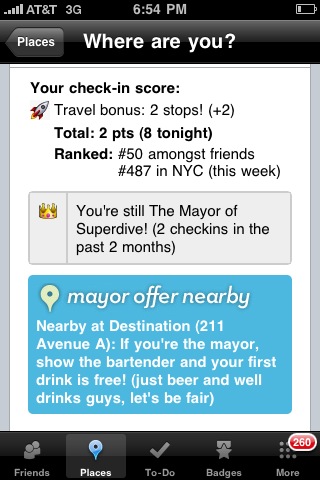 In Baltimore there are currently five venues offering specials to Foursquare users and Mayors in the Baltimore area :
Bad Decisions
http://foursquare.com/venue/174532
@ Bad Decisions: Free Flaming shot for every 10th visit. Show the bartender after checking in and cheers!
Caesar's Den
http://foursquare.com/venue/165133
@ Caesar's Den: 15% off your food bill every third time you check-in on Foursquare!
California Tortilla
http://foursquare.com/venue/333576
@ California Tortilla: Free Chips and Queso with any purchase if you check-in at these California Tortillas.
Ledo Pizza
http://foursquare.com/venue/237479
@ Ledo Pizza: Free fountain soda with any purchase for the Mayor.
Teavolve
http://foursquare.com/venue/31281
@ TeaVolve: One free entree for the mayor!
The Future
Currently Foursquare is a game that you can play with your friends, and it has only scratched the surface of marketing opportunities. In February of 2010 Foursquare signed deals with Zagat, Warner Bros., HBO, the History Channel and ExploreChicago. These brands will have tips and information on Foursquare to promote their movies and TV shows. As more users sign on and more partnerships are announced the future of Foursquare is unlimited.
For more information check out http://foursquare.com/learn_more.
(All images courtesy of Foursquare.com)