Trends in Annual Reports: Content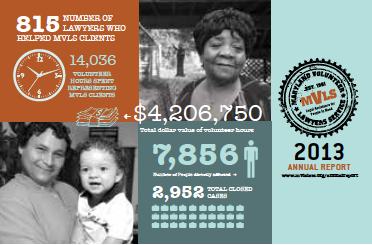 Annual reports are a staple of an organization's end-of-year work load. They are a valuable tool to communicate to donors and funders. As we saw with the annual appeal, annual reports have evolved over the years. In this blog series, we will review some of the current trends in Annual Report design as well as the time-tested techniques that still hold true. Today, we will look at ways your content can make the strongest impact with a focus on visuals and your donors.
What are the goals of the traditional annual report? Usually, it tells the story of your organization, summarizes the accomplishments of the past year, and includes personal stories. We see a trend towards less traditional content and a movement towards storytelling through stats and photos rather than long text. This slideshow excerpt from How to Create a Nonprofit Annual Report, includes lots of tips for making content more engaging.
Another popular tweak is to not only focus on what happened in the previous year, but show a look forward to future goals. Showing donors not only what they did support but why they should continue to contribute. This post from #fundchat has a great list of ideas for making a report more engaging both visually and textually.
This sense of engaging the donors also reflects in a trend towards more donor-centric annual reports. This means they focus on the donors and what they do for the organization. Donors are addressed throughout the report, not just the donor list. By acknowledging donors in this way, organizations can reduce or cut out the donor list to make more room for photos and text.
Removing the donor list entirely is a topic of some debate. This post from The Fundraising Coach makes the case for keeping the list, while the lower half of this blog post argues organizations have more effective methods of achieving the goal of a list. If you do opt for a traditional donor list, interspersing it with stats or photos can make it more interesting and provides more room to tell your story.
In the next blog we will talk about how annual reports are adapting to the digital age. Are printed reports almost a thing of the past? What ways are there to meet the needs of a wide range of donors?