South Baltimore Learning Center (SBLC) is a community-based non-profit organization providing literacy education, life skills training, and career preparation services to adult residents in the area. SBLC came to Redstart for help finding their brand.
Freshstart Branding
Messaging
Logo
Stationery
Website

SBLC needed help creating and articulating a compelling story that engaged and resonated with its target audience.
SBLC needed to find a way to distinguish themselves from peer organizations, beyond calling itself a "learning center."
Since funders are moving away from focusing on "adult education," SBLC needed a unifying message that conveyed the depth and breadth of their overall value, including as an engine for workforce development.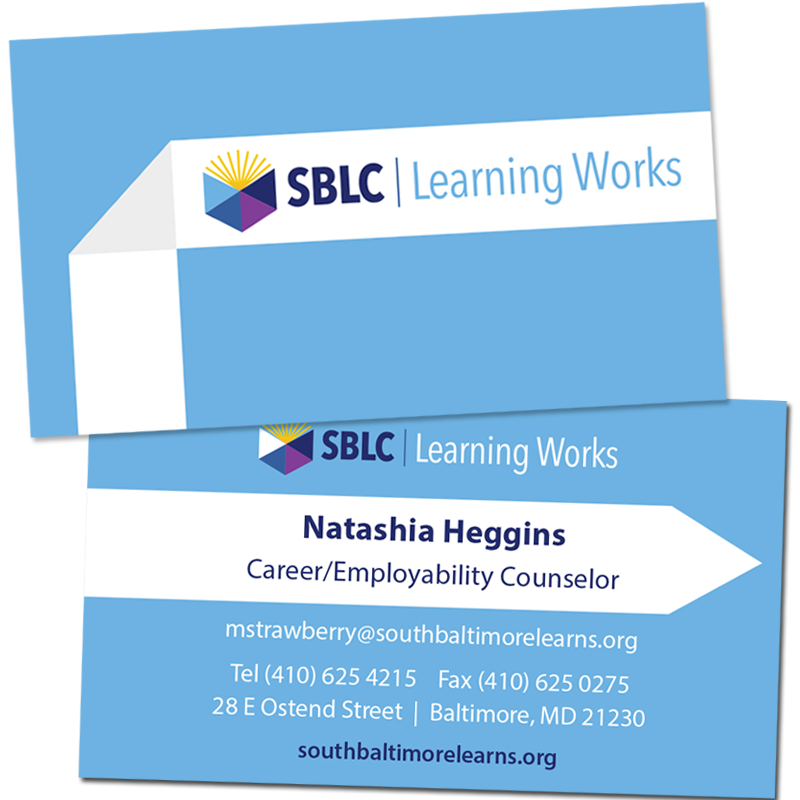 We pinpointed SBLC's core motivation, which is to support the desire in each person to learn and excel to the highest points of his or her abilities and potential.
We identified SBLC's core strengths including: a people and support-first approach; the ability of its expert, knowledgeable staff to instill confidence and inspire achievement; and a focus on shared success.
We determined SBLC's target audience, so that their brand message would speak directly to their desired market.
We focused on a few important distinguishing features of SBLC, which would allow us to highlight why they matter to their audience in the communications we crafted for them. These features included their ability to customize content to fit the personal, unique needs or professional aspirations of adult learners, and the variety of their program.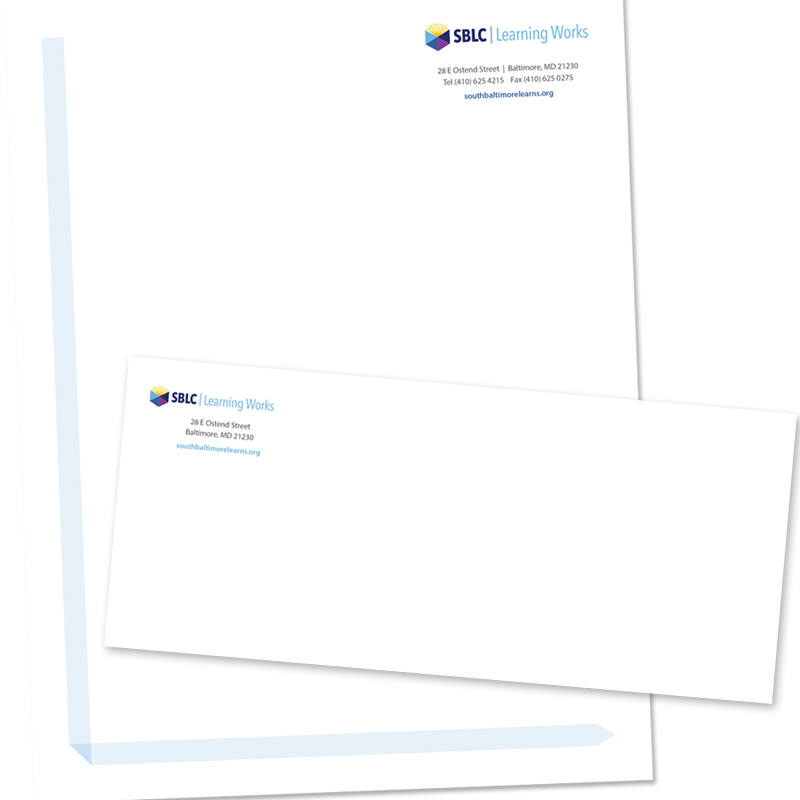 Redstart drafted an SBLC story, which included the history of SBLC, explanation of their approach to adult education, and highlights of how they make a difference.
We selected a few shorter, core messages to be used in a variety of different contexts, as well as a potential tagline – "At SBLC, we put learning to work."
Our designers created a new logo and print materials to support SBLC's rebrand and new communications strategy.
Our team developed a new website, incorporating the new story, logo and messages.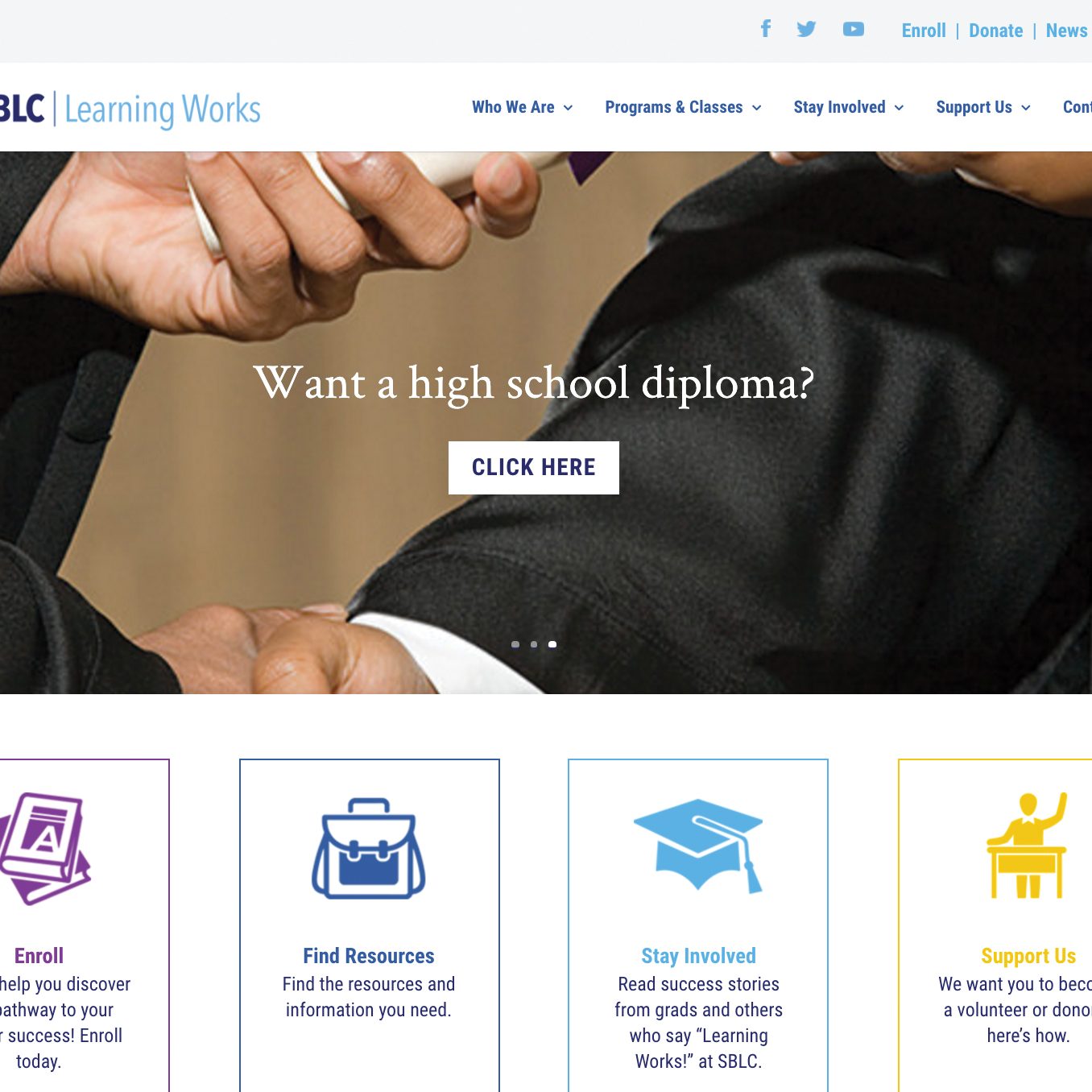 Redstart was able to help SBLC create and articulate a compelling story about the organization that would engage and resonate with all stakeholders. That story would then help generate awareness, increase enrollment and support, and help the organization to stand out from peer organizations in a positive way. Most notably, through the discovery process, SBLC was able to recognize that it functions not only to educate adult learners, but also to empower them to succeed. That led them to adopt its newfound tag line: Learning works.
"We love our new look! The Redstart Creative team includes professionals who are experts in their fields and sensitive to the unique needs of a non-profit marketing strategy. Their genuine compassion for our mission helped SBLC achieve a brand that effectively conveys the story we've been longing to tell, but just couldn't find the words or images to express so succinctly."
Dana Marron , Fund and Instructional Development Director
Ready to get your project started?